The 2019 Forum
About the Forum
Since its inception in 1963, the Jerusalem International Book Fair has brought together members of the international publishing community for a week of professional and intellectual as well as informal gatherings.
The Jerusalem International Book Forum continues in this tradition, deepening and expanding the professional relationships formed in the friendly, open atmosphere that has become the signature characteristic of the JIBF. The Forum builds on the unique achievements of the Fair to offer a vibrant, relevant, and engaging platform for publishing professionals. The new JIBF serves as both a workshop and social gathering, recognizing that the bonds and connections between people are among our most valuable resources. The new JIBF is a meeting ground for discussing challenges, exchanging ideas, and sharing insights and experience.
At the heart of the new JIBF is a program of events (participation requires pre-registration) including panels, discussion groups, interviews, presentations and informal gatherings, where publishing professionals can engage in the free exchange of ideas with their colleagues.
The JIBF remains is a biennial event. Its last reiteration was in May 2019.
The Zev Birger fellowship program, named after its founder and sponsored by the Holtzbrinck Publishing Group since its inception in 1985  — a week long professional seminar for a group of about thirty-five fellows — continues to run in its usual format.
Since the beginning of the program it has produced about 600 Alumni. The Forum also offers special activities for returning Alumni. Participation of the Alumni is supported by Penguin Random House.
Submission of applications for the 2021 fellowship program is not yet possible. If you are considering to apply please let us know.
A series of cultural and literary events open to both professionals and the general public also takes place during the Forum as part of the collaboration between the Forum and the International Writers Festival of Mishkenot Sha'ananim.
Participation in the Forum's events requires pre-registration. Registration for the 2021 Forum has not yet begun.
JIBF Staff
Tzion Turgeman, CEO, Ariel Municipal Company
Yoel Makov, Director, JIBF
Sharon Katz, Production Coordinator, JIBF
Hadar Makov-Hasson, Content Manager, JIBF
Hamutal Menasheof, Production Assistant, JIBF
Ravit Yizhaki, Head of Productions, Ariel Municipal Company
Shani Levi, Financial Supervisor, Ariel Municipal Company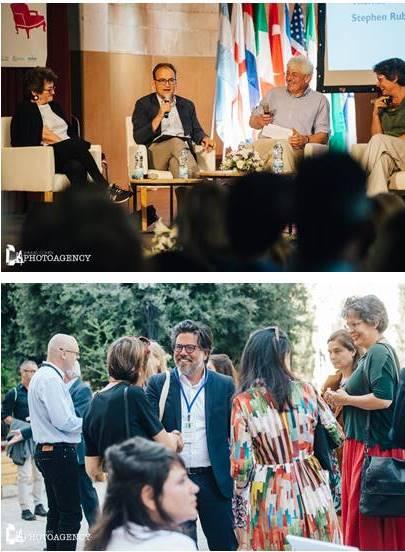 To the 2019 Jerusalem International Book Forum